Starkey Hearing Technologies
Founded in 1967, Starkey Hearing Technologies is one of the few American manufacturers of hearing aids. Their mission is: "Alone we can't do much. Together, we can change the world." In terms of innovation, Starkey was the first to introduce the in-canal hearing aid and the first custom, fully programmable invisible hearing aid.
Starkey works closely with their sister institute Starkey Hearing Research Center in Berkeley. From data and research compiled in studies, Starkey hearing aids are designed to be discreet, flexible, and accessible. In April 2015, Starkey received the Silver Edison Award for their ground-breaking Halo Made for iPhone hearing aid. They have previously received commendations for SoundLens, AMP, and Xino Tinnitus products.
As a leading hearing aid manufacturer, Starkey has established the Starkey Hearing Foundation, which donates hearing aids to developing countries worldwide, such as Mozambique and Vietnam. They have currently donated over 1 million hearing aids.
Introducing Muse – Hearing Aids Made for Life
---
Muse Made for Life hearing aids are Starkey's latest offering, introduced in spring 2016. Muse hearing aids are wireless and provide comfort in noise, excellent music listening, clarity with speech, and flexibility in a range of listening environments.
Muse is powered by the new Synergy processing platform, with five times the power and speed of previous Starkey hearing aids. With the Acuity OS, Muse hearing aids enable people to hear all the subtleties of life. Muse gives wearers a high-definition audio experience, allowing them to hear a range of complex sounds simultaneously. This engages the wearer and allows them to choose the sounds to focus on.
As a wireless hearing aid, the Muse uses the SurfLink app to stream phone conversations, music, and other media directly from phones and devices straight to wearer's ears, eliminating distractions of background noises. The SurfLink app functions as an assistive listening device by using the smartphone's microphone as an amplifier for wearers who need an extra boost in particularly difficult noise environments.
For people who experience tinnitus, Muse also offers Starkey's Multiflex Tinnitus Technology, a sound therapy program to provide relief from the frustrating symptoms of tinnitus. Muse hearing aids are available in standard and custom styles, with a micro receiver-in-canal model equipped with a telecoil, and a small, slim mini behind-the-ear model. The Muse is also available for single-sided deafness, with the Muse CROS. All Muse hearing aids are coated with Surface Nanoshield, to protect them from moisture and earwax.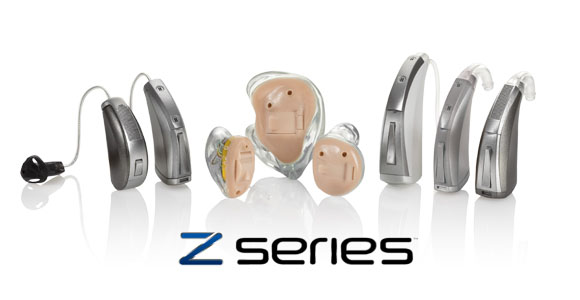 Z Series
Powered by the BluWave 4.0 operating system, Z Series hearing aids offer many new and improved features.
Binaural Spatial Mapping simulates binaural hearing, providing wearers the full spectrum of sounds in their surrounding environments. For improved speech recognition, Voice IQ2 focuses on managing noise in the environment, and enhances and preserves speech. Starkey's trademark Multiflex Tinnitus Technology alleviates hearing aid wearers of symptoms of tinnitus using a wireless binaural system.
Additionally, the Z Series offers a Self-Learning feature, which memorizes wearer preferences and makes automatic adjustments from one environment to the next. As a wireless hearing aid, Z Series connects to SurfLink2, allowing wearers to stream phone calls, music, and media directly to their hearing aids.
Halo2 Made for iPhone
In 2015, Starkey's Halo Made for iPhone was awarded the Silver Edison Award. Halo2 is one of the world's first hearing aids designed to connect to a smartphone.
The TruLink app allows Halo2 wearers to directly stream phone calls, music, and other media directly from their iPhones to their hearing aids. Also, by activating the iPhone's geo-tagging feature, wearer preferences are archived and automatically readjust when wearers return the same location.
By connecting to the iPhone, the TruLink app allows wearers to use their phones as an assistive listening device and also have discreet control over the program and volume preferences.
Soundlens Synergy by Starkey
Invisible Hearing Aids
---
Soundless Synergy by Starkey is the most technologically advanced invisible hearing aid on the market. Soundless Synergy are custom fit, invisible hearing aids that sit deep within your ear canal – so only you know they are there. Although small, these devices are powerful hearing instruments offering wearers a natural listening experience and a plethora of features. Some of the features available with Soundlens are wireless streaming of TV, music and other media as well as customizable tinnitus relief options. At Hearken Hearing & Audiology, our professionals are highly experienced at fitting Soundlens to ensure a comfortable and appropriate fit for each individual. If you are interested in finding out more about the Starkey Soundlens hearing aids, please contact us today to schedule a consultation with an audiologist.
---
Other Starkey Styles and Features
All Starkey hearing aids are fully customizable and are available in the following styles: invisible, receiver-in-canal, completely-in-canal, behind-the-ear, and in-the-ear. For people who experience single-sided deafness, Starkey offers CROS hearing aid models. The Halo Made for iPhone hearing aid is available only in receiver-in-canal and behind-the-ear styles.
Coated in HydraShield2, Starkey hearing aids are sturdy and resilient against dust, water, sweat, earwax, and oils. Additionally, Starkey offers invisible in-the-ear amplifiers for new comers to hearing devices.